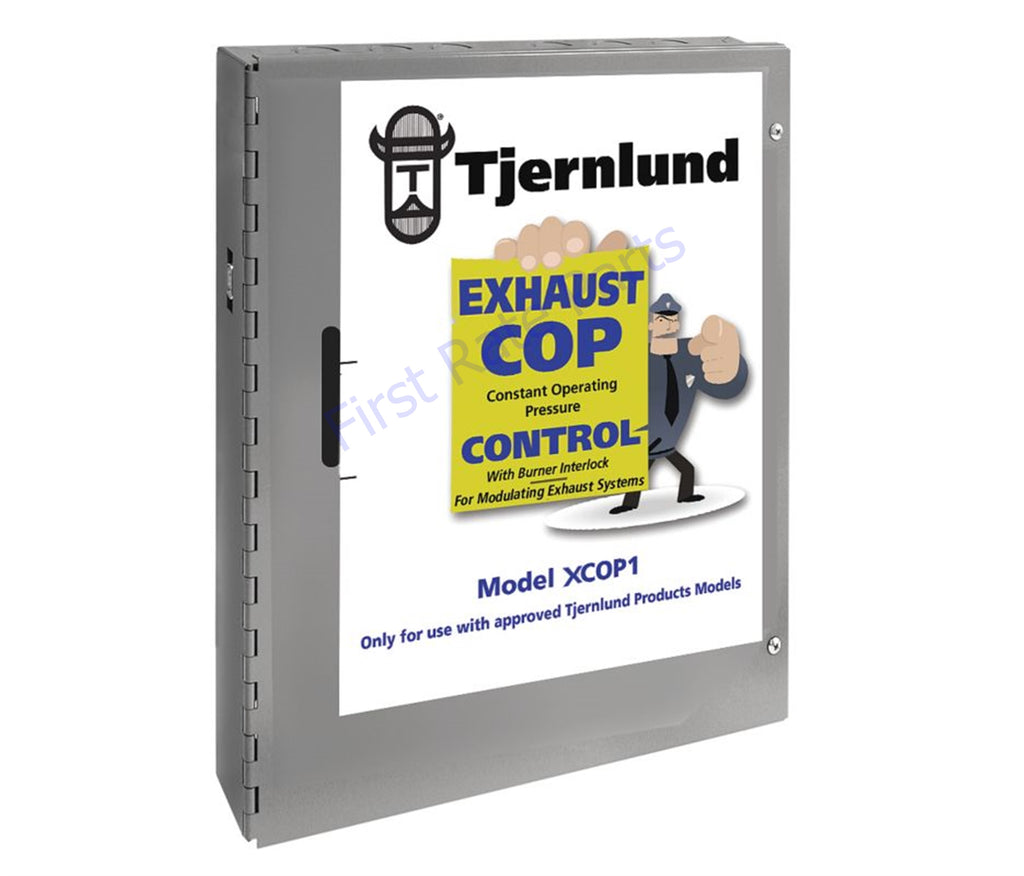 Tjernlund
Tjernlund XCOP1 Fan Speed Control Exhaust Pressure COP2 DCOP1 RT750 RT
---
Tjernlund XCOP1 Constant Operating Pressure Control RT-Series Exhaust Fan Duct RT750 RT1500 14U171 14U170 RT Series RT750 RT1500 Pressure Based Speed Control 
LAST ONE!!!
This is the CHEAPEST price ANYWHERE on a genuine part.
This is new, never used or installed.
Get your genuine XCOP1 unit for much cheaper here.  Don't worry about old used parts breaking, this is brand new.  Don't settle for used parts, this is brand new.  BETTER BUILT!!!
This part sells for over $867
Full Specs available at http://www.tjernlund.com/Tjernlund_XCOP1_Constant_Operating_Pressure_Exhaust_Control_8504175.pdf
The XCOP1 is a Constant Operating Pressure Control that will modulate the speed of an RT-Series Rooftop exhaust fan to maintain 
a user adjustable negative pressure set point. The set point is adjusted through a pot mounted on the COP circuit board. The operating range of the XCOP1 control is -0.10 to -1.0" w.c.. Do not use with any other series of Tjernlund Inducers/Venters. 
Pressure is measured in a chase or duct at the farthest point from the exhaust fan with the included sensing tube and tubing which connects to the pressure sensing port on the XCOP1. As exhaust volume increases within the duct/chase the resulting reduction in measured pressure causes the XCOP1 control to increase power to the fan. It speeds up to handle the additional exhaust volume and slows down when the exhaust volume is reduced, modulating fan speed to maintain a constant exhaust pressure.
Item Speed Control
Type

Pressure Based

Voltage

115

Max. Amps

15

Max. Wattage

1500

Height (In.)

12

Width (In.)

10-1/2

Depth (In.)

2-1/2

For Use With

RT750 and RT1500

Agency Compliance

ETL US and C

Includes

Mounting Hardware and Instructions
---
Share this Product
---
More from this collection